I haven't done anything with my nails
in a while now so today I finally
decided to paint them using one of
the polishes I got as part of my NYX haul:
"NYX Girls Special Glitter Nail Polish"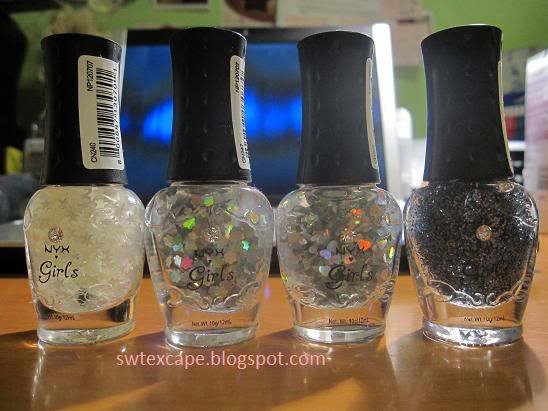 I picked out four different ones in total.
A white pearl glitter polish, 2 silver glitter polishes,
and a gorgeous navy blue glitter polish.
What they look like up close:
(Pretty pearl white stars)
(Silver flower-shaped glitters)
(The colour didn't show up very well
in the photo but this is actually a pretty
navy blue coloured glitter polish.)
I really like these NYX glitter polishes.
They are unique and unlike other glitters polishes
that I have used before. I'll be able to mix and match
these with all sorts of other polishes to create
many looks. I think I'm going to have a lot of fun
doing different nail looks with them.
For my NOTD, I started off by
painting the tips of my nails
with a silver coloured polish
to give it that extra omph.
Rimmel London #414 Insolence
(silver polish with very fine glitters)
I wanted a clean, sparkly look
and thought the stars from the first nail polish
would add the perfect touch.
This is what my NOTD ended up looking like.