Hello everyone!
Seems like January just flew by in a blur and it's already February! Over the last month, there were some products I found myself using over and over again so I thought I'd share with you my loves of the month. Better late than never right? ;) So here goes in no particular order...
1. Physicans Formula Talc-Free
Mineral Wear Pressed Powder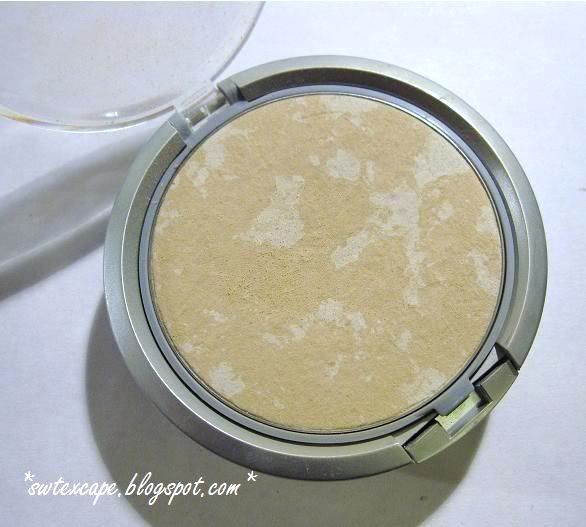 This is a finely-milled pressed mineral powder comparable to MAC Mineralize Skinfinish Natural but with a slightly more matte finish. It's great at keeping my oily skin under control. No matter how much you apply on, it never looks cakey. I love this!
2. NYX Rouge Cream Blush
in Glow
The NYX Cream Blushes are very pigmented and creamy so a little bit goes a long way. I use this alone to give my cheeks a soft glow from within or pair it with a powder on top and use it as a base Either way, this blush stays put all day even on my oily skin. For $6, I think the quality of it exceeds the price and it's comparable to more expensive ones, like the MAC Creme Blend Blushes.
3. ELF Shimmering Facial Whip
in Lilac Petal
This is a highlighter that comes in a small squeeze tube. It's a great dupe for the Benefit High Beam. They are both pigmented, similar in texture and give off the same glow. I prefer the small packaging of the ELF Shimmering Facial Whip, however. It's easy to squeeze out the exact amount I need (which is not a lot at all!) and I can just throw it into my makeup bag. Best of all, it's only $1 off the eyeslipsface.com website. What a steal, no?? :)
4. Vichy Dermablend Skin Concealer
Although I've been trying out other concealers, I found myself coming back to this one. It's very creamy and and pigmented so it works great for my undereye area. My dark circles stand no chance against this concealer - it's really a dream to use! The Amazing Cosmetics Amazing Concealer is another great concealer similar to this, but I find the texture slightly more drying for me.
5. NYX Concealer in a Jar
in Beige
For discolouration and any blemishes on my face, I like to use this concealer because the colour is a perfect match for my NC20-25 skin.
Again, this is very creamy and pigmented. It completely covers my blemishes and doesn't budge all day. It's comparable to the MAC Studio Sculpt Concealer but costs much less for only $5.
6. Rock and Republic Contrived Blush
in Kinky
This is scary hot pink colour in the pan, but looks great once you put it on. My camera doesn't capture its true colour so I added a picture below for you to see.
Image via: rockandrepublic.com
It's truly a hot pink colour!
I can't get enough of this :D
On the left, I used a light hand and it gives a soft pink colour. On the right, I layered a bit more on to deepen the colour. You can definitely go even darker. The blush is very pigmented and you can layer it on depending on the intensity you want. It's probably the most expensive blush I own but it's HUGE (much bigger than your average blush) so this will last me forever.
7. L'Oreal Voluminous Mascara
in Waterproof
I don't necessarily wear mascara everyday since I don't bother if I'm just going to school. On the days I do wear mascara though, this is my weapon of choice. It holds the curl on my weak lashes, is smudge-proof, lasts all day, and gives me a false lashes effect.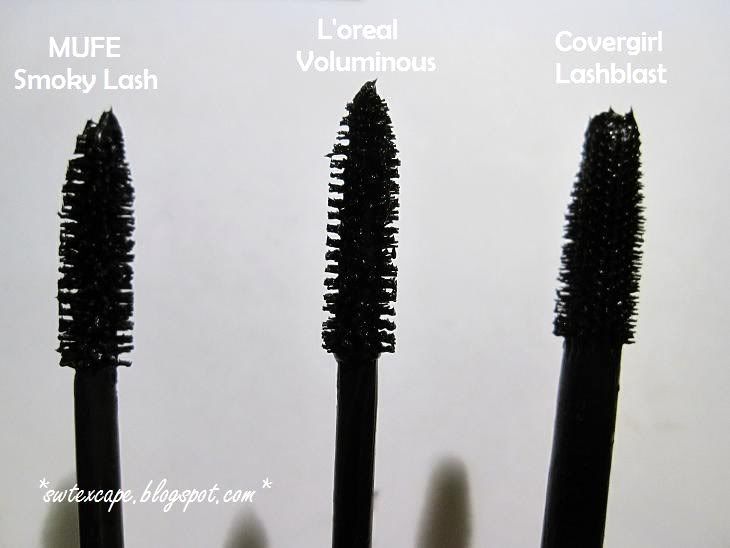 I haven't found another mascara better than the L'Oreal Voluminous. A close one is the Covergirl Lashblast, but the stubby wand is harder to work with. I've heard great things about the MUFE Smoky Lash but when I tried it out, it didn't hold the curl for my lashes :(
I really wanted it to work too.. oh well!
I've picked up other mascaras from L'Oreal as you know from my
previous haul post
. I'm waiting to get a new camera before I do a review because my current camera is not focusing very well anymore. It's sad when your pictures come out blurry :(
8. ELF Studio Line Powder Brush
This is the flat-top powder brush from the ELF Studio Line.
Those of you who have tried this will know what I'm talking about when I say that it's one of the softest powder brushes I've ever used. It cost just $3 but has beat out more expensive brushes I've tried. Its bristles are very dense so it works great for applying powder. I love this brush and have even bought backups ;)
9. ELF Mechanical Eyelash Curler
in Pink
Another great ELF product I've been loving!
I was using the Shiseido Eyelash Curler prior to this, meant for Asian eyes. The ELF curler is slightly curvier and actually works better for my eyes.
What makes me love this eyelash curler so much is the large padding that it comes with. Normally with other curlers, I have to be careful because pinching does occur, but with the ELF curler, I've never had any problems with pinching at all! I attribute that to the padding, which lets me curl my lashes quickly without worry. It's awesome!
10. Maybelline Waterproof Liquid Liner
I've tried several liquid liners but this one by far lasts the longest. I've cried with this on during movies and sweated with it on at the gym. It stays put like no other liner I've used before.
Whether you want a very thick or a very thin line, the wand works great. For $7 it's comparable (and even better) than some higher end liners. This is definitely a staple for me!
That's it...
all 10 of my favourites!
It's surprising that a lot (actually MOST) of these products happen to be drugstore products. The price can be deceiving sometimes I guess ;)
What are some of your favourite products lately?
If you care to share, I'd love to hear some of yours too!

Until next time,